What a busy year 2017 was!
In August I had the honour of being inducted into the Australasian Martial Arts Hall of Fame and the World Karate Union Hall of Fame.
The late Bill Hart Sensei (judoka) had started my nomination before he sadly passed away and Peter Shaw, 6th Dan Tae Kwon Do continued the nomination process.
It is very humbling to be acknowledged by one's peers.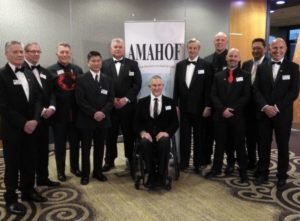 October saw we travel to Okinawa for the International Okinawan Goju Ryu Karate-Do Federation (IOGKF) Chief Instructors Gasshuku (training event) in Naha.
It was attended by Chief Instructors and invited 5th degree black belts from over the 50 affiliated countries worldwide. The Gasshuku lasted 4 days and consisted of intensive technical training under Master Morio Higaonna – 10th IOGKF Degree Black Belt and Supreme Master
The majority of the training took place at the recently opened Karate Kaikan.
Karate Kaikan consists of three main buildings:
1. the Karate Dojo, housing four competition courts with seating for 380 spectators, training and seminar rooms,
2. the Karate Archives, an exhibition hall containing an entertaining "paid reference room" with interactive displays on karate, a shop selling karate-related goods, and food and drinks area, and
3. the Shurei Hall, a special dojo crowned with a red tiled roof symbolizing Okinawan tradition, for use on special occasions such as high-ranking black belt promotion tests and public performances.
My own dojo, the Dunedin Institute of Traditional Karate,   http://dunedinkarate.co.nz/ is going well with other 24 members training regularly.  We are continuing with the Black Belt training on Wednesday nights which enables us to focus on senior technical aspects.
The last Wednesday of the month we offer womens self defence which is well attended.
Most Saturday mornings I am volunteer at Budo Culture For Disabled http://www.budo4disabled.org.nz/  .  It is really great seeing the growth of the members.
2018 has started with a rush and seems to be gaining momentum.  One of this years goals is to video myself doing each kata to assist others in wheelchair with their kata.  Watch this space.
A bit late , but all the best for 2018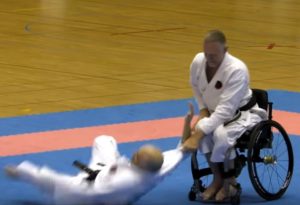 Keep well and Train Hard
Kindest regards,
John